What is HTTP?
You've probably noticed the letters "HTTP" pop up frequently during your time on the internet. Whenever you type in the URL of a website into your web browser, those letters are automatically appended before the full web address. What you may not know is that HTTP is a powerful component of our online world. Without it, we wouldn't be able to seamlessly browse and access webpages like we do today.
The acronym itself stands for "Hypertext Transfer Protocol." When pages across the internet are linked to each other using hyperlinks, those pages are considered to be "hypertext." HTTP allows for the transference of hypertext from servers to web browsers, allowing us to easily view webpages, click links, and navigate to other related pages.
HTTP/3 is the next evolution of this protocol. Most web browsers and companies today support HTTP/2 and HTTP/1.1, prior versions of the protocol that use a specific way of transferring data between servers and applications. Although it is not an official internet protocol yet, HTTP/3 will be a gamechanger for companies and users once fully adopted.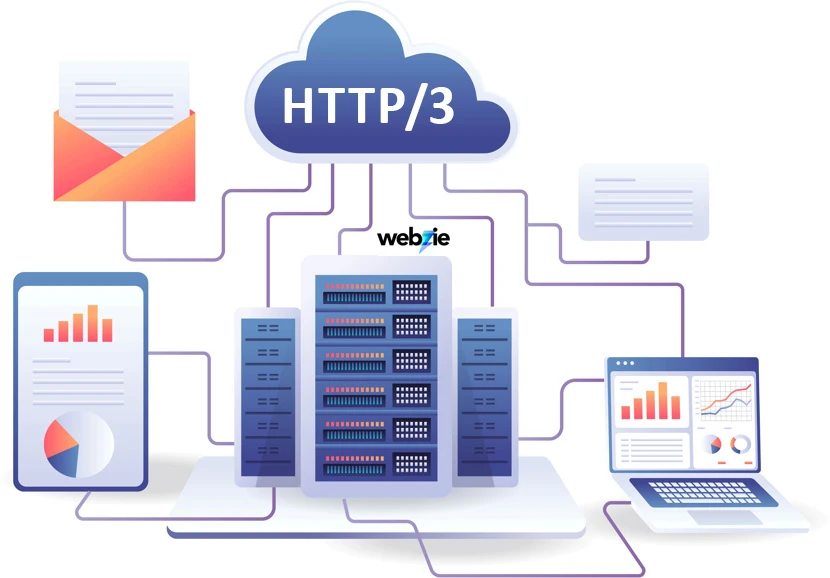 Why You Should Care About HTTP/3
At its core, the internet is a network of information. As a user of the world wide web, you're undoubtedly looking to access information and load data quickly and seamlessly. When you're accessing hundreds of interconnected webpages every day, just a second or two of delay when loading a page can be a frustrating experience, especially on a mobile device. It can also add up to a significant amount of wasted time when you're just trying to find what you're looking for online.
If you're an ecommerce business owner, you know that every second counts in our mobile-first world. If a customer cannot quickly and easily search your site and complete a transaction, they'll jump to the next competitor down in the search engine results page. This problem only magnifies as websites grow to hold more content, images, animations, and text. Load times are becoming more and more critical to success.
Unlike its predecessors, HTTP/3 runs on a streamlined network designed to reduce latency and avoid connection delays as it communicates and delivers information between servers and users/browsers. If you're accessing an HTTP/3-supported webpage on an HTTP/3-supported browser, that means faster load times and quicker access to information.
For ecommerce businesses, HTTP/3 gives you a critical edge over competitors. Your customers will be able to find what they're looking for more quickly, thereby reducing bounce rates and abandoned carts.
All Webzie Stores Include HTTP/3 at No Cost
Webzie is an all-in-one website builder that's designed to be focused on ecommerce. It's insanely easy to use and optimized for performance to deliver lightning-fast websites every time. Compared to competitors such as Shopify, Squarespace, and Wix, online stores built with Webzie logged remarkably lower average load times and top Google PageSpeed Insights scores.
In support of its performance-driven mission, Webzie was one of the first companies on the internet to implement and fully support HTTP/3. It joined the likes of Google, Facebook, Cloudflare, and Lightspeed to gives its users access to this powerful, upgraded protocol.
When choosing where to launch your ecommerce store, speed should be an important consideration. Consumer research has proven that just a fraction of a second of delay in page load speeds can have a significant impact on page views, leads, conversion rates, engagement, and average order value. As an ecommerce business owner, you literally cannot afford the delay.
All stores built with Webzie now fully support HTTP/3 (in addition to HTTP/2 and HTTP/1.1) at no additional cost. Although HTTP/3 is in a draft phase, most browsers are already supporting it (Chrome has supported it since April 2020, and Firefox has supported it since April 2021). This means that Webzie's existing store owners are already benefiting from its technology and the performance improvements it provides. For existing Webzie users, no action is required to receive this valuable add-on.
Don't lose customers because your online store is slow to load. Try Webzie for free today.
How to Check if Your Website Supports HTTP/3
Several online tools are now available that can easily crawl your website or online store and determine if it is already built to support HTTP/3. We recommend:
Once on these sites, simply type in your website URL to check your results. If HTTP/3 is supported, you should see a message similar to the ones below.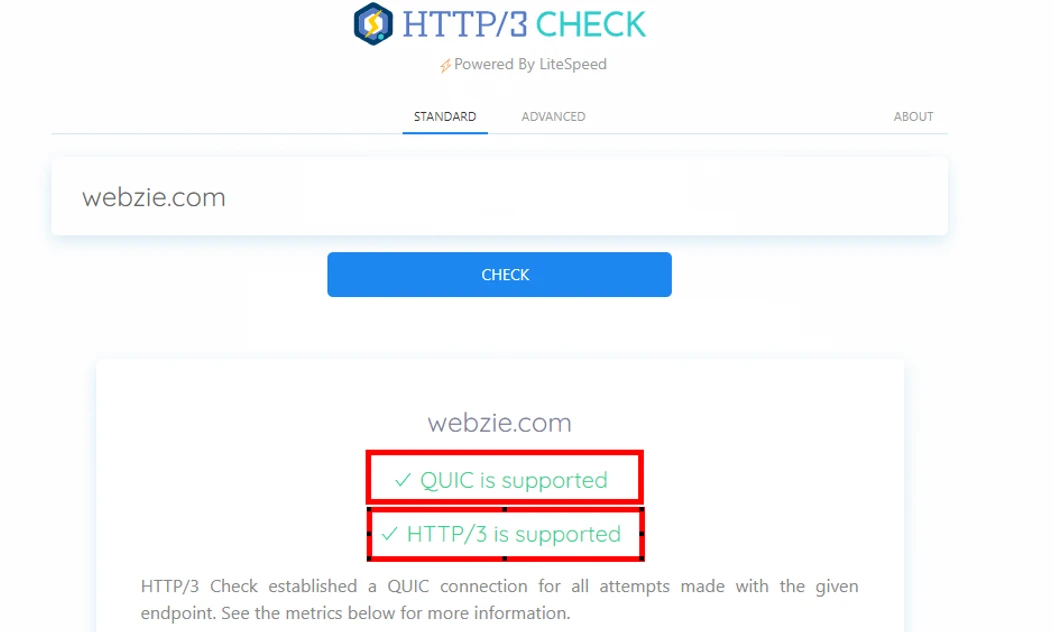 Final Thoughts
Although not yet formally released, HTTP/3 is already supported by major websites and web browsers. If your online store is not HTTP/3 compliant, you're already missing out. Just a few milliseconds of lag can turn off customers and cost you sales.
A powerful, performance-driven ecommerce website builder already exists. Webzie not only fully supports HTTP/3, but its users are already enjoying lightning-fast websites and top Google performance scores. Don't waste your customers' value time or your own investment by choosing an outdated, lagging ecommerce platform. Upgrade to Webzie today.